The recent updates from 10.5.1 through FCP 10.5.4 are not currently reflected in the book, but there's nothing to worry about: recommended workflows have not changed.
10.5.3's new features
The Column Editor is a new feature which (finally!) allows you to choose exactly which columns are shown in the List View in the Browser. As well as creating multiple column sets, you can switch between them and even share them with others.
Searching has become more precise. Instead of just searching all text, you can now limit a search to only notes, or clip names, or markers. It's also now possible to search by media type, such as proxy, optimized, original or even missing.
Lastly, the Blade tool now uses a scissors icon rather than a razor blade, but functions the same as before.
10.5.1's new Share feature
An additional export method was added, YouTube & Facebook, which slightly rearranges the caption export options and creates a file suitable for direct upload to video sharing sites. My recommendations to use the Computer export option still work perfectly, however, and you can continue to use this workflow.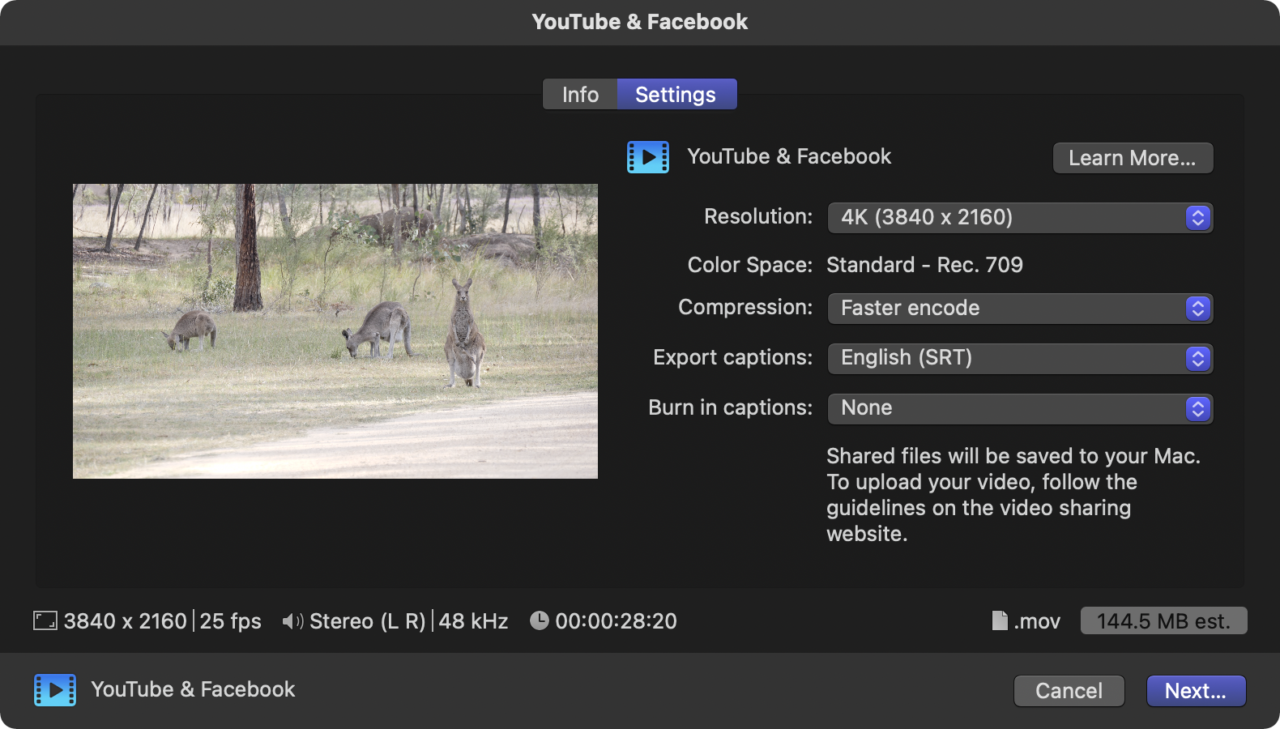 FCP 10.5.1 also removes an older option to upload directly to YouTube or Vimeo, likely because changes at the streaming sites made these features unreliable. I recommended against using these options in the Important Note on p697, and in the next update, I'll replace this with a description of the new export option.
Currently, all screenshots match macOS Catalina, not the latest macOS Big Sur.
The next edition of the book will accompany the next major feature update, and will also revise the screenshots for the latest macOS Big Sur operating system, which changed the appearance of menus and dialog boxes.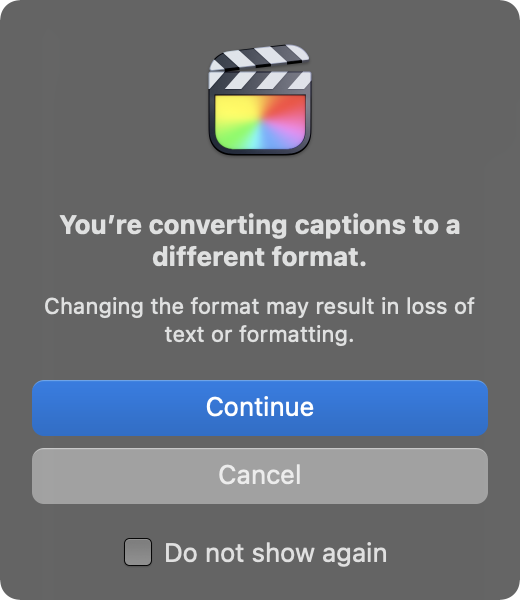 While these changes are only cosmetic, be aware that if you're running the very latest macOS — not always a wise choice in the first few months of an operating system's release, but unavoidable on a new M1 Mac — then some things might look a little different.
Errata
There are two minor errors in the first chapter — apologies. These have been rectified in the freely downloadable Chapter 1 available on this site, but for clarity:
p6: The Effects pane and Audio Meters are open in the bottom right…
This refers to an image on page 6. An earlier version of this image showed the Effects pane, but it was replaced just prior to release, and the replacement image doesn't show the Effects pane. Sorry for any confusion.
p25: (You might also need to use the built-in Disk Utility app to format it as "HFS+ (Journaled)" or "APFS" first.)
This note is in regard to Time Machine, Apple's built-in backup solution. At time of publication, macOS Catalina was still the version of macOS in widest use, and it requires the "HFS+ (Journaled)" disk format for Time Machine disks. That advice has now changed for macOS Big Sur, which recommends "APFS" instead. Simply pick the disk format which your system needs — Time Machine is great either way.