A book to teach you how to edit well with Final Cut Pro.
This book is a comprehensive best practice guide for all editors. You'll not only learn how to use the features but also find out which ones are the most important and when you should use them. With the help of practical examples, the book will show you how typical footage can be assembled, trimmed, colored, and finessed to produce a finished edit, exploring a variety of techniques.

---
As you progress through the book, you'll follow a standard editing workflow to get the feel of working on real-world projects and answer self-assessment questions to make sure that you're on track.
By the end of the book, you'll be well versed in the key features of this app and have all the tools you need to create impressive edits.
If you'd like to know more, download the first chapter of the book for free — it'll give you an overview of Final Cut Pro, and of the book itself. You can also read what other people have said about it, and see it in real life on Richard Taylor's FCP TV Live.
You'll learn how to review all your footage quickly and efficiently
You'll learn how to keyword and rate your video clips so you can easily find the right shot when you need it
You'll learn how to build a rough cut and finesse it to a fine cut, using powerful editing techniques
You'll learn complex color correction and finishing techniques to make the most of your footage
Part 1: Importing and Organizing
Chapter 1: Quick Start: An Introduction to FCP
Chapter 2: Before the Edit: Production Tips
Chapter 3: Bring It In: Importing your Footage
Chapter 4: Sort It Out: Reviewing and Keywording
Chapter 5: Choose your Favorites: Selecting, Rating, and Searching
Part 2: Rough Cut to Fine Cut
Chapter 6: Build the Spine of the Story: Quick Assembly
Chapter 7: Cover it Up: Connections, Cutaways, and Storylines
Chapter 8: Neaten the Edges: Trimming Techniques
Chapter 9: Consider your Options: Multicam, Replacing, and Auditions
Chapter 10: Explore a Little: Compound Clips and Timeline Tricks
Part 3: Finishing and Exporting
Chapter 11: Play with Light: Color Correction and Grading
Chapter 12: Refine and Smooth: Video Properties and Effects
Chapter 13: Blend and Warp: Video Transitions and Retiming
Chapter 14: Boost the Signal: Audio Sweetening
Chapter 15: A Few Words: Titles and Generators
Chapter 16: You're Done: Exporting Your Edit and Finishing Up
Published by Packt Publishing.
Why a book?
With online video training commonplace, why write a book? Because everyone learns in different ways, including in-person training, video tutorials, and written manuals; a mix of solutions is worthwhile. Video tutorials play in real-time, while a book is always at exactly your speed. If you can read and understand a concept more quickly than someone can speak, reading can be faster.
A book doesn't need a pause button, stays exactly where you left it, and can be read far away from your Mac.
Why this book?
The official Apple training manual (for FCP X version 10.4) is good, but it's about two years old and doesn't discuss the latest features. In contrast, Final Cut Pro Efficient Editing is up-to-date with the latest 10.5 release of Final Cut Pro (transitioning from FCP X) and will be updated for future releases too.
This book was written by an Apple Certified Trainer, and it's designed to teach you how to use the best features in the best way, as well as to point you to third-party solutions where they can help.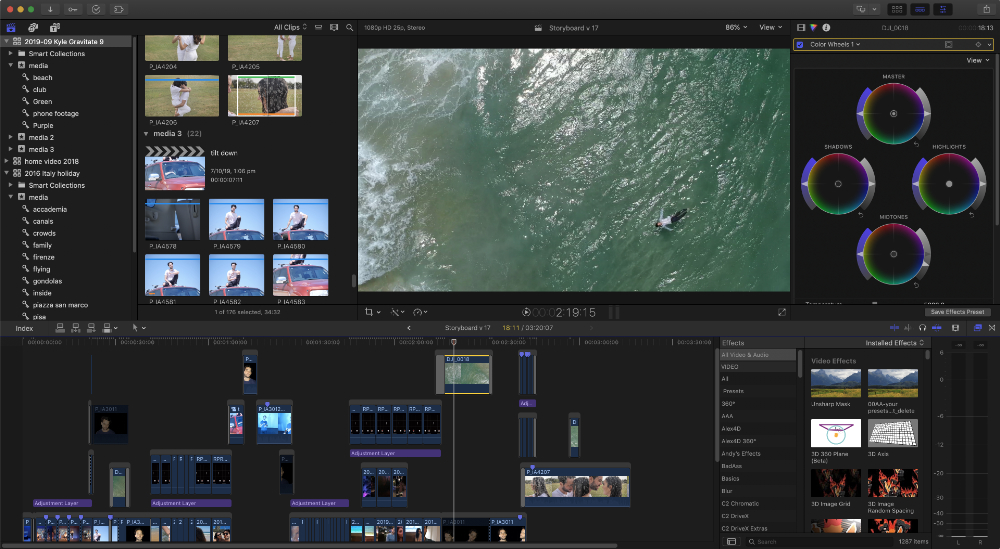 OTHER WAYS TO LEARN FCP
Books are great, but that doesn't mean video training can't also be great. Iain has created many video courses at macProVideo.com that are available on a subscription or as an outright purchase. If you'd prefer to learn interactively, Iain is also available for in-person or remote training sessions through Training Brisbane.
If you're still stuck, there are also many other excellent video training courses, free videos on YouTube, helpful groups on Facebook, and friendly people on Twitter too.
Hang on… where's the X?
While the current version of the book is called Final Cut Pro Efficient Editing, the first edition was called Final Cut Pro X Efficient Editing. Apple changed the name of the app to remove the X, and we followed suit. The video editing app previously known as FCP X (or FCPX) is now just Final Cut Pro or FCP. So far, there haven't been many significant changes, so if you bought the first release in paper form, you're not missing out, and if you bought it electronically, you should have already seen an update.