As you may have seen, Final Cut Pro received a feature update to 10.6.2 today. While the 10.6.1 update was simply a bug fix, 10.6.2 brings some new features, and here are all the details:
Dupe Detection
Long requested and finally delivered, in style. You can now activate Duplicate Clip Detection (with View > Show Duplicate Ranges) to see crosshatching on any portions of any clips used more than once in the same timeline. It's easiest to spot these duplicates in the Timeline Index, where you can find a full list of duplicates and discover if they're really a problem.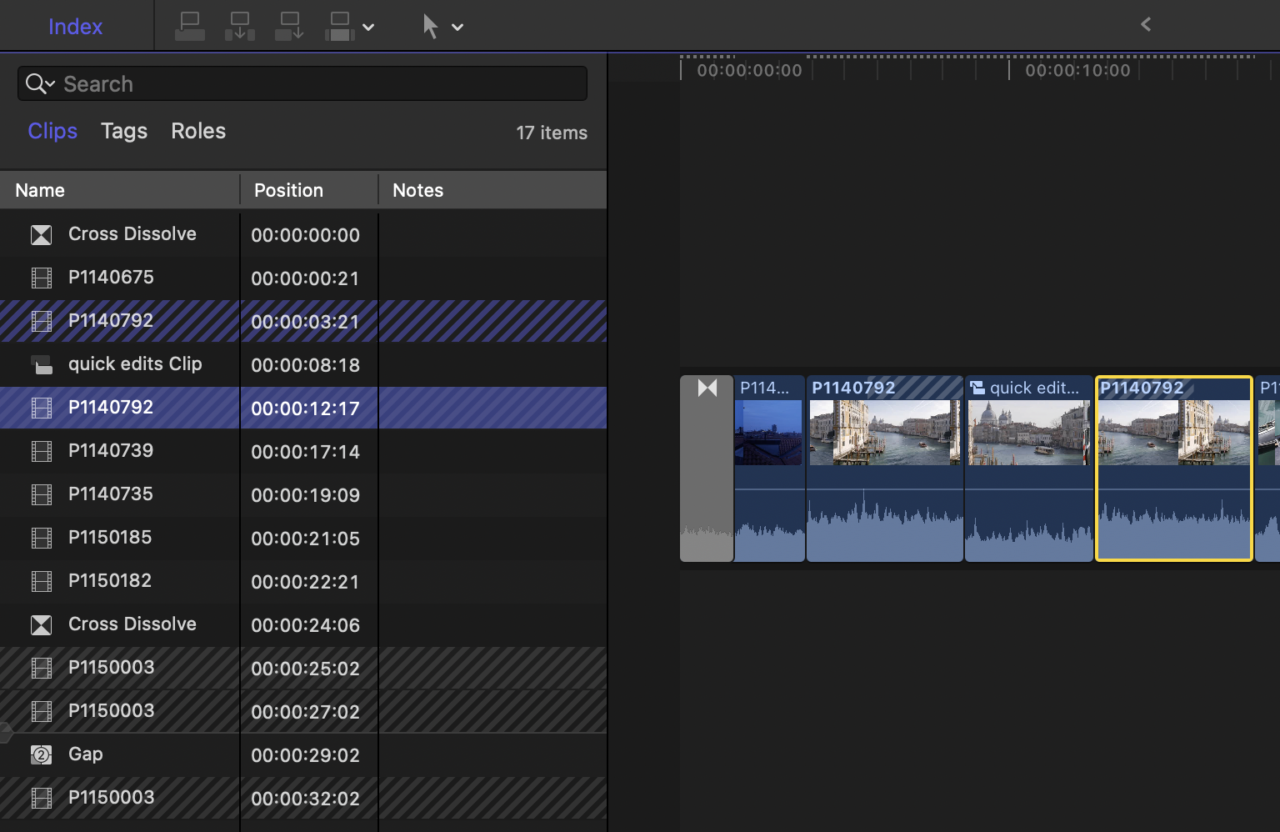 Other editing apps often use colored lines to indicate overlaps, where the color is unique to each matched pair, and you can tell at a glance where the duplicate is — assuming it's close enough to see easily. While there's no color-coding here to help you match one frame to another, there's a pair of keyboard shortcuts (⌥⌘← and ⌥⌘→) which will jump from one duplicate to another, so it's still easy to locate matched clips. It's elegant, it works well, and it's very welcome.
Object Tracker interface changes
The Object Tracker, just added in 10.6, has had an interface update. The most obvious improvement is that the chain link icon has been removed, and the menu to the right of the word "Tracker" now includes a HUD with several new controls.
It's now easy to unlink position, scale or rotation from a track by using simple checkboxes, and you can relink them too. To offset an effect or attached object from a track, use the menu just above these checkboxes. This HUD is a big improvement: it's much easier to see what the Object Tracker is influencing, and it encourages experimentation. Another improvement: the tracker UI no longer appears with color masks.
The Object Tracker sections in the book will be reworked with new screenshots in the next edition, but all the basic workflows remain the same as in 10.6.
Voice Isolation
This new Voice Isolation feature, based on Machine Learning and found in the Audio Inspector, is far more likely to be useful than the older Noise Reduction option. For one, it doesn't sound over-processed (like an underwater robot) nearly so quickly. If you're cleaning up voice (as I usually am) then you just need to check the box on, and dial in the slider. A careful listen may still reveal artifacts on higher settings, but these are still preferable to the unfiltered audio, and to the best that Noise Reduction could do.
Note that the Voice Isolation feature requires macOS Monterey 12.3 or later, so you'll need to be running the latest OS or you won't see it at all. If you don't want to update to the latest macOS to get this for free, or you find that the results still aren't good enough, then you can look to a third party solution instead.
For all the details of bug fixes and smaller changes, read the official release notes here.
All the new features will be discussed in the next edition of Final Cut Pro Efficient Editing, which is expected to follow the eventual release of FCP 10.7. All purchasers of the book will receive free electronic updates, even if you buy it on paper. Thank you for your support, and happy editing!